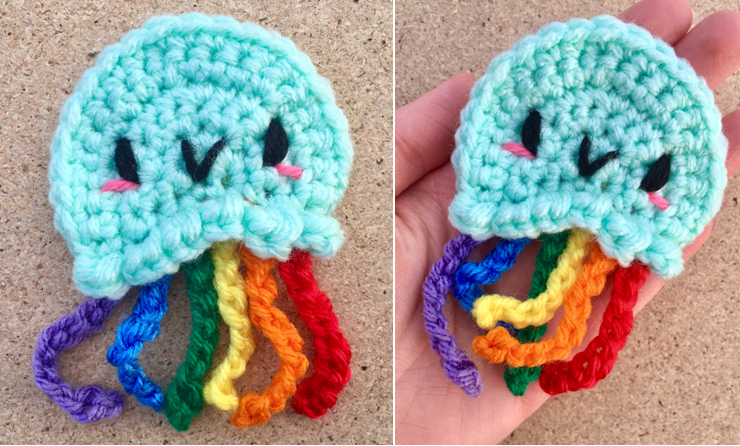 Rainbow Jellyfish Applique Crochet Pattern
Disclosure: This post may contain affiliate links; for more details, please see my Disclosure Policy here.
It's time for another fun crocheted applique pattern! When designing this little critter, I was trying to brainstorm some ideas for how to make the tentacles stand out. Then it hit me – what could be more fun than a RAINBOW jellyfish?! And so this Rainbow Jellyfish Applique design was born!
To compliment the rainbow tentacles, I decided to make the head a pastel that would make the bright colors stand out, but still compliment them as well. I chose one of my all-time favorite colors, Red Heart with Love in Minty. I used this yarn for my Turtle Applique (find the pattern HERE!) and loved the color and texture! You can stock up on this lovely yarn on Amazon HERE
!!
In addition to it being kawaii to the max, another thing that makes this applique so much fun is how versatile it is. You can adjust the hook size to make the applique larger/smaller, which means you can use it for all kinds of projects! I think this little jellyfish would look so cute on a hat or scarf, or even a baby blanket. Or, how about incorporating some awesome DIY into your wardrobe by attaching this little guy to one of your t-shirts? You can learn how to attach a crocheted applique to fabric (including t-shirts) in my blog post HERE!
Who's ready to work up some jellyfish cuteness? I know I am!
Supplies
G/6 4.00 mm crochet hook (increase/decrease hook size to make applique larger/smaller)
Small amounts of Red Heart Super Saver in:
Cherry Red
Pumpkin
Bright Yellow
Paddy Green
Delft Blue
Purple (?)
Black
Small amount of Red Heart Soft Baby Steps in Strawberry
Red Heart With Love in Minty
Abbreviations
Ch = chain
BLO = back loop only
Hdc = half double crochet
rep = repeat
Rem = remaining
Sc = single crochet
sl st = slip stitch
St = stitch
Gauge
Exact gauge is not essential to this project
Size
About 4.5 inches, including tentacles, when made with 4.00 mm hook (increase/decrease hook size to make applique larger/smaller)
Instructions
Head
With Minty, Ch 2.
Row 1 – In 2nd ch from hook, 4 sc. Ch 1, turn (4 sc)
Row 2 – 2 sc in each st. Ch 1, turn (8 sc)
Row 3 – sc in next st, 2 sc in next; rep until end of row. Ch 1, turn (12 sc)
Row 4 – sc in next 2 sts, 2 sc in next; rep until end of row. Ch 1, turn (16 sc)
Row 5 – sc in next 3 sts, 2 sc in next; rep until end of row. Ch 1, turn (20 sc)
Row 6 – Sc in each st across. Ch 1, do not fasten off. (20 sc)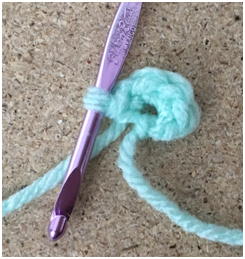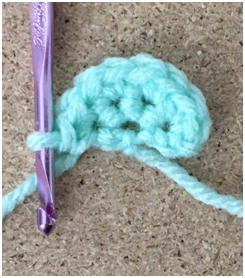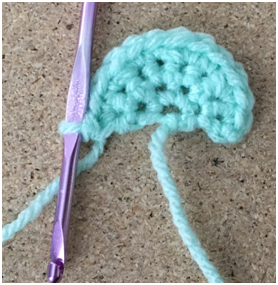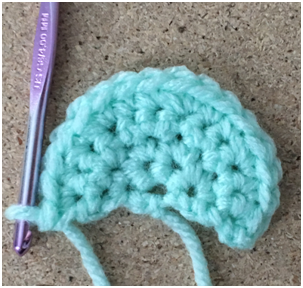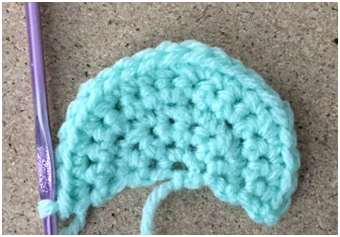 Bottom of Jellyfish
Row 7 – Working on underneath of work, sc across 6 sts. Ch 1, turn (6 sc)
Row 8 – In BLO, 2 Hdc in same st, Sl st in same st, Sl st in next. Ch 1, 2 hdc in same st, Sl st in same st, Sl st in next st. Rep from * to * 4 more times. Ch 1, 2 hdc in same st, sl st back into same st. Fasten off Minty. (7 hdc clusters)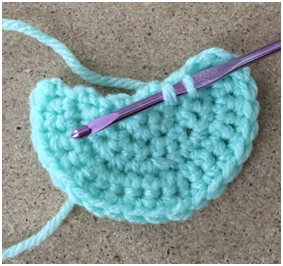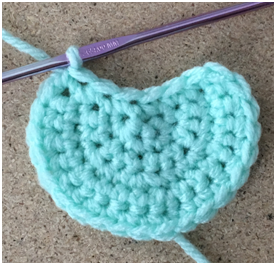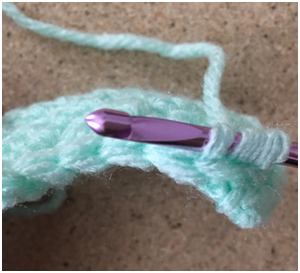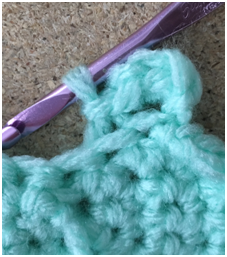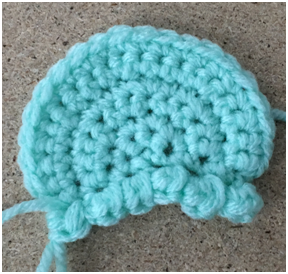 Tentacles
Working in rem loops from sts worked in BLO in Row 8 of Head, attach Red in first loop. Ch 11, fasten off. Rep same process, attaching rem 5 colors in the rem loops from Row 8 of Head. If sewing to another piece of crochet, such as a hat or scarf, leave long tails for sewing down tentacles. Otherwise, run rem yarn tails through chs and into back of Head to tie off on back of work. Tie off all rem ends on back of work.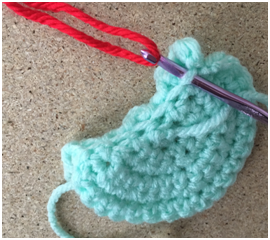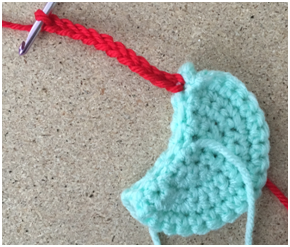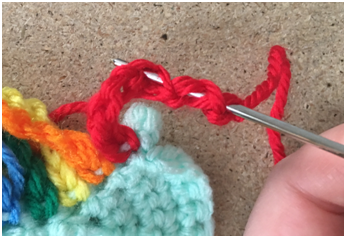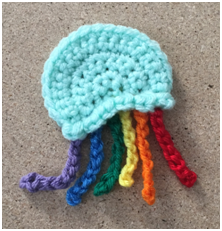 Finishing
With Black, make a vertical line several times on left side of Head for Eye. Make a "v" in the center of Head. Repeat Eye on other side of Head. With Strawberry, make a small horizontal line in outer corner of each Eye for Blush. Tie off all ends on back of Head.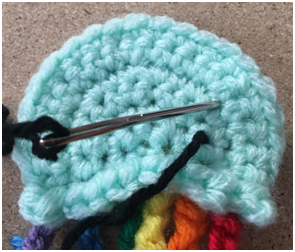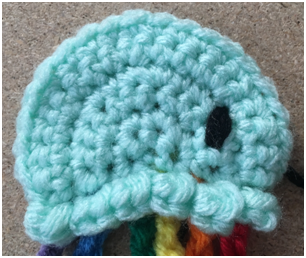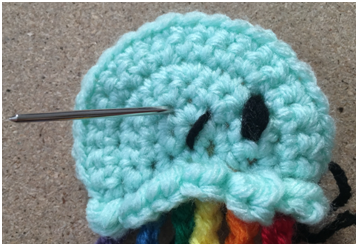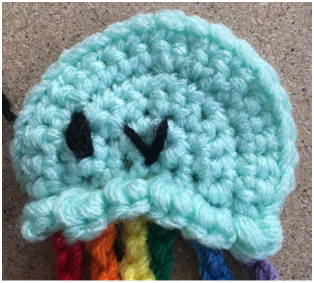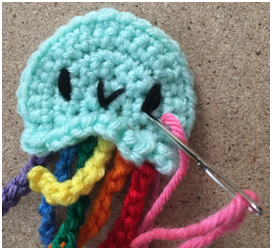 Here is the finished jellyfish!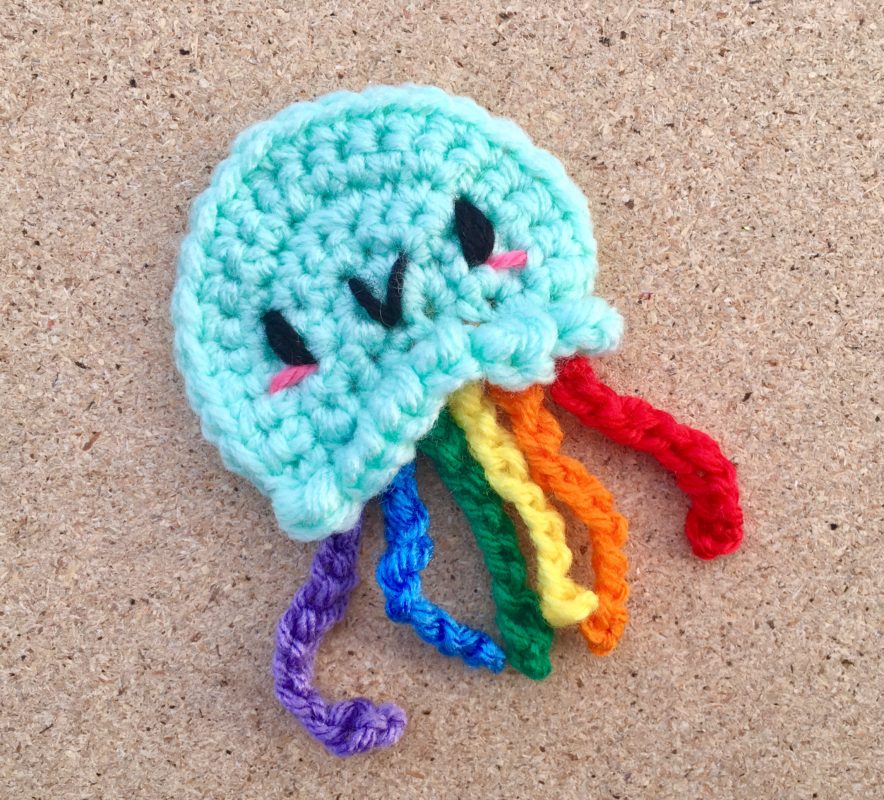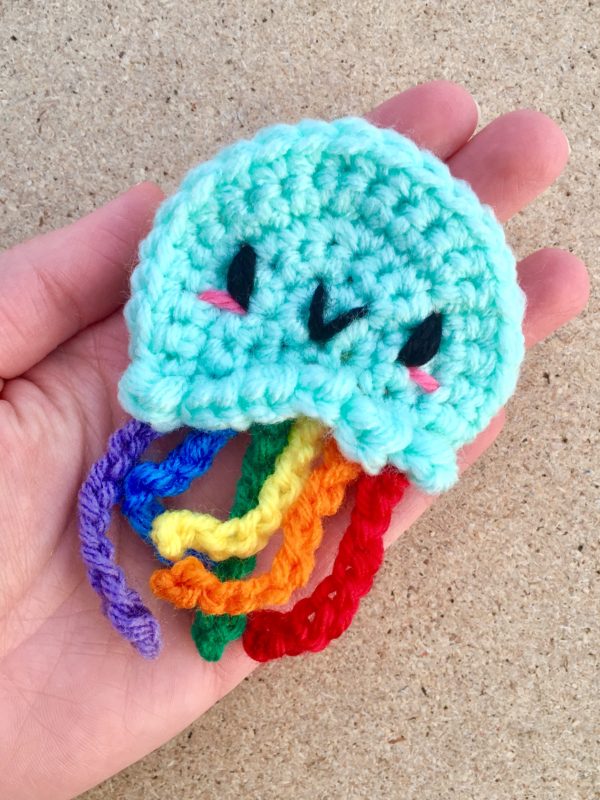 I hope you enjoyed crocheting this little jellyfish along with me! Stay tuned for more fun crochet patterns, including amigurumi, appliques, and more! You can stay up to date by subscribing to my email list and following me on social media!
COPYRIGHT:
This pattern is owned by Crafty Kitty Crochet (Melissa Moore). Any reselling or distribution of this pattern is prohibited. Sale of items made using this pattern is welcomed, but I do ask that credit/a link be provided back to my site, craftykittycrochet.com.
Keep up to date with my crazy crochet life!