About Me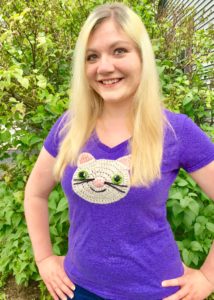 Oh hey there, I guess you've decided to learn more about the lady wearing the cat shirt in her all photos!  I'm Melissa, and I've been crocheting since I was seven years old.  It started out as making random little chains, then it progressed to blankets and scarves, and eventually I made my way into the wonderful world of amigurumi crochet.  It's been an awesome journey, and I believe the best is yet to come for Crafty Kitty Crochet!
I started my first online crochet shop in 2011, soon after I graduated college.  I was looking for a big-girl job for the first time, had just moved hundreds and hundreds of miles away from my hometown, and had also just gotten engaged.  It was a hectic time, to say the least!  I guess you could say that crocheting kept me grounded, or maybe sane is a better word to describe it.  I was immediately interested in learning more about crocheting amigurumi, which is of Japanese origin, and refers to crocheted or knitted stuffed dolls and animals (often with a very cute and simplistic look).  Before I knew it, I was launching my Etsy store and hoping for the best!
It didn't happen overnight, but with a little persistence I started to gain some momentum in my crochet career.  By the end of 2013, I had participated in a few large comic book conventions in Houston, been interviewed by the Houston Chronicle, and was even lucky enough to be featured in the New York Times!
I now live in the capital region of New York, and have been working on keeping my items fun and fresh for the last few years.  In January 2018, I launched my Zibbet shop, and have kept busy crocheting for my online customers, as well as coworkers and friends!  But I still felt like I could be sharing my love of crochet even more if I finally did something that my customers had been asking me about for years: writing down and publishing my crochet patterns.
So with the help of some lovely pattern testers, I'm here to present you with the most unique, fun, quirky patterns I've been saving up for the last seven years!  I hope you enjoy them as much as I do!
Thanks for stopping by, and have a magical day!
I couldn't even stop laughing while my husband was taking these photos of me for my blog! Here's one of the more "candid" shots.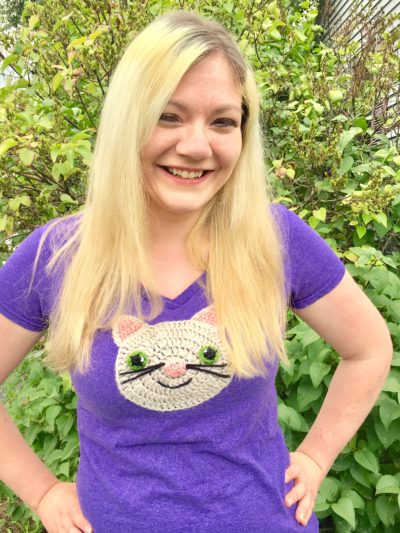 Feel free to reach out to me with questions at craftykittycrochet@gmail.com!
Disclosure Policy:
This blog is a personal blog written and edited by me. This blog accepts forms of cash advertising, sponsorship, paid insertions or other forms of compensation.
This blog abides by word of mouth marketing standards. We believe in honesty of relationship, opinion and identity. The compensation received may influence the advertising content, topics or posts made in this blog. That content, advertising space or post may not always be clearly identified as paid or sponsored content.
The owner of this blog may be compensated to provide opinion on products, services, websites and various other topics. Even though the owner of this blog receives compensation for our posts or advertisements, we always give our honest opinions, findings, beliefs, or experiences on those topics or products. The views and opinions expressed on this blog are purely the bloggers' own. Any product claim, statistic, quote or other representation about a product or service should be verified with the manufacturer, provider or party in question.
This blog does not contain content which might present a conflict of interest.
Copyright:
The patterns on this site are owned by Crafty Kitty Crochet (Melissa Moore). Any reselling or distribution of these patterns is prohibited. Sale of items made using these patterns is welcomed, but I do ask that credit/a link be provided back to my site, craftykittycrochet.com.