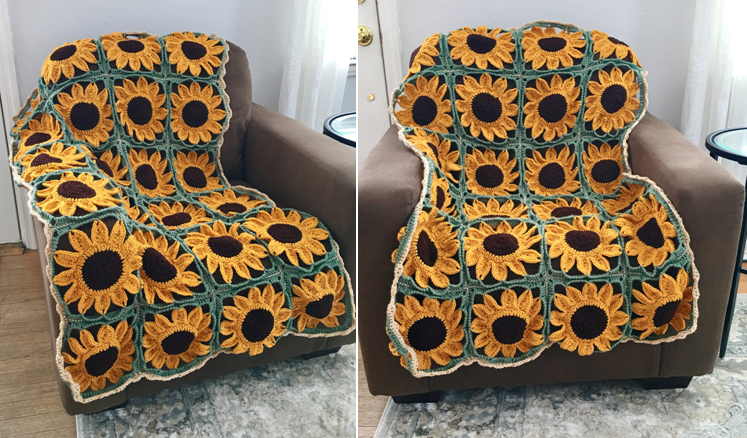 Sunflower Square Blanket Crochet Pattern
Disclosure: This post may contain affiliate links; for more details, please see my Disclosure Policy here.
By popular demand, here is my Sunflower Square / Blanket crochet pattern! When I first experimented with making a sunflower afghan last year (using a lovely pattern from http://momsloveofcrochet.com), I was so happily surprised by the amazing response it got from everyone! Apparently, sunflowers are a lot of people's favorite flowers! While making that blanket, I started changing up some aspects and adding my own touches. Fast forward nearly a year, and I have had numerous people asking how to make one that looks like the one that I made. So, I put on my thinking cap and started working a design that had a similar sunflower goodness, but that was totally original and my own. Here are the results!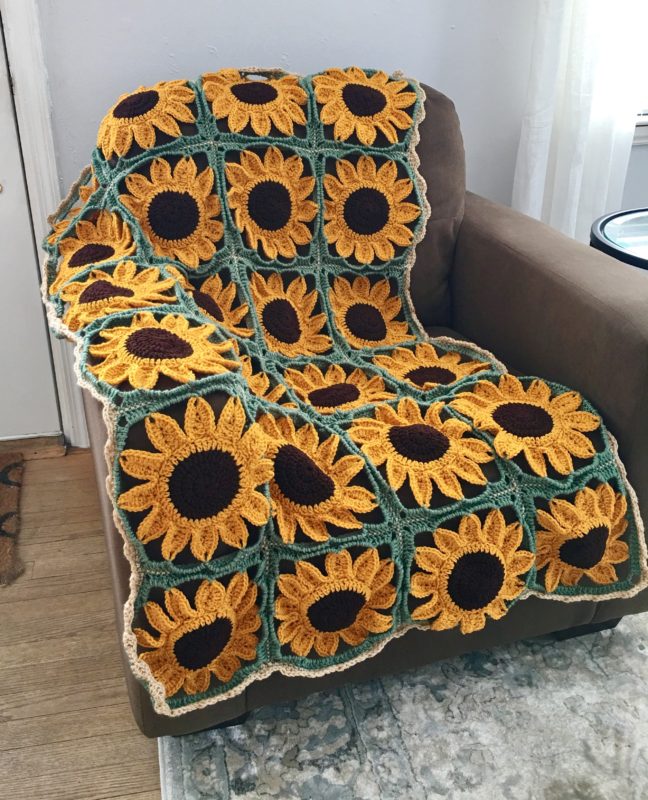 I knew I wanted a large "eye" of the sunflower, and petals that had a very definitive shape – rounded around the body of the petal, and very pointed at the tip of the petal. And most of all, I wanted the pattern to be easy and fun! I hope you enjoy the finished pattern, and that it brightens up whatever cozy space you decide to decorate with it!
I went with a classic for this project, and chose Red Heart Super Saver in Gold
, Coffee
, and Light Sage
. I also think the outer/green part of the blanket would look great in dark green, or any other color you choose to make the sunflower inside the square really "pop"! You can find some Super Saver on Amazon HERE
!
The blanket in the photos here is made up of 24 squares – four across, six down. I thought it came out a very nice size for a small throw, but you could make the afghan in any size you'd like by adjusting the number of squares on your blanket. So whether it's a baby blanket or a king-sized bedspread you're looking to make, feel free to get creative!
(Pin it for later here!)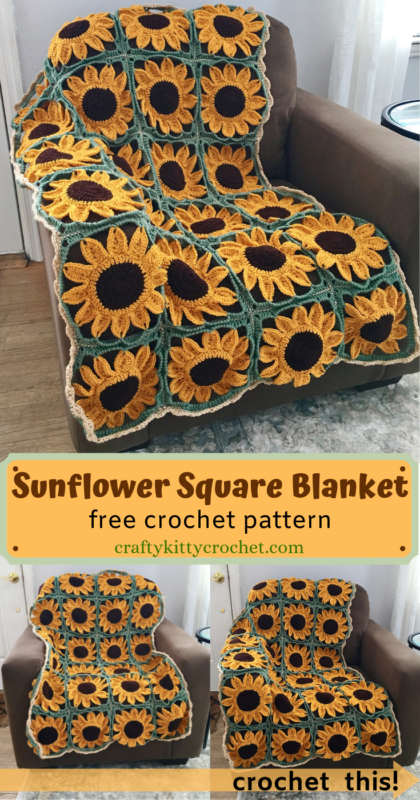 Ready to make an entire sunflower field without even having to leave the comfort of your favorite chair? Then let's get planting….errr…crocheting!
(Looking for an ad-free PDF version of this pattern? It's available in my shop HERE for just $1.99!)
Supplies
Size H/8 5.00 mm crochet hook
Red Heart Super Saver in:
Yarn Needle
Scissors
Abbreviations
*= indicates the start and end of a section that is repeated
BLO = back loop only
Ch = chain
Dc = double crochet
FLO front loop only
Hdc = half double crochet
Rep = repeat
Rnd = round
Sc = single crochet
Sk = skip
Sl st = slip stitch
Sp(s) = spaces
St = stitch
Tr = triple crochet
Gauge
3 dc across = about .75 inches; 2 rnds of dc = about 1 inch in length
Size
One square measures about 10 inches square (about 9 inches square when assembled into afghan)
Notes
Chains do not count as stitches in the stitch count throughout the pattern.
Square will initially curl upwards while you are crocheting it; this can be adjusted by stretching the square considerably when finished (pulling from corners outward until piece lays flat). In Rnd 7 of Sunflower Square, you may wish to chain 8 instead of 7, if your work is curling too much.
Throw blanket in this pattern consists of 24 squares (4 across, 6 down). Blanket size can be adjusted by adding/reducing number of squares.
Instructions
Rnd 1 – With Coffee, make a magic ring. Ch 2, 12 dc in ring. Join with sl st to first dc. Ch 2 (12 dc)
Rnd 2 – 2 dc in each st. Join with sl st to first dc. Ch 2 (24 dc)
Rnd 3 – 2 dc in first st, dc in next st; rep around. Join with sl st to first dc. Join Gold in last st. Ch 2 (36 dc)
Rnd 4 – 2 dc in first st, dc in next 2 sts; rep around. Join with sl st to first dc. (48 dc)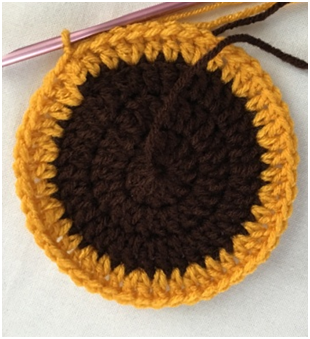 Rnd 5 – Ch 5, sc in first st, tr in next 3 sts. Sk 2 sts on Rnd 4, and join with sl st in next st. Sl st in next st. Rep around for a total of 12 petals. Do not sl st twice on last petal. (1 sc and 3 tr per petal)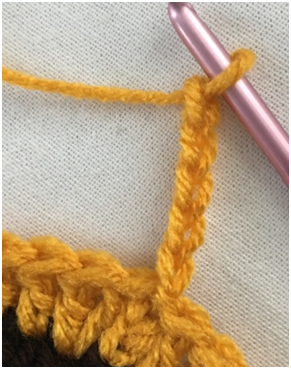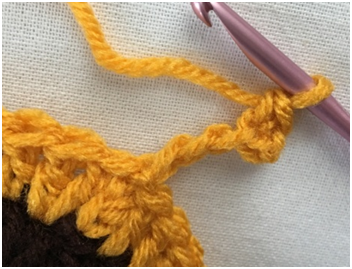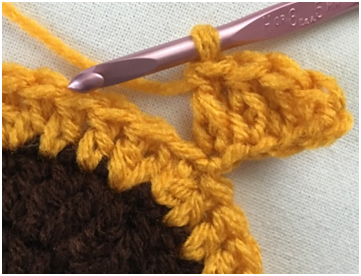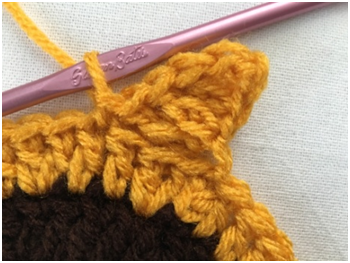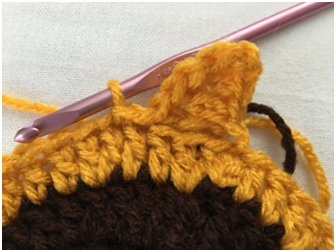 Rnd 6 – Working around each petal made in Rnd 5, ch 1, sc in first st, hdc over next 2 sts, 2 dc in next, [3 dc, ch 3, 3 dc] in next st, 2 dc in next st, hdc in next st, sc in next st. Sl st in between current petal and the next (second sl st from Rnd 5). Rep around. Fasten off Gold. (2 sc, 3 hdc, 10 dc per petal)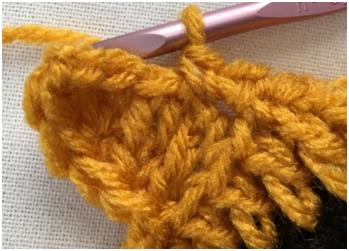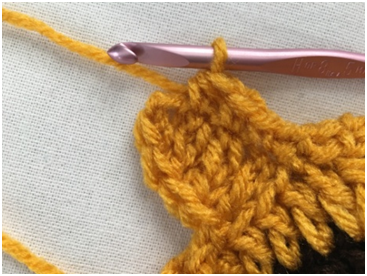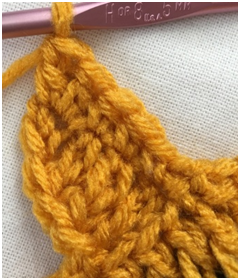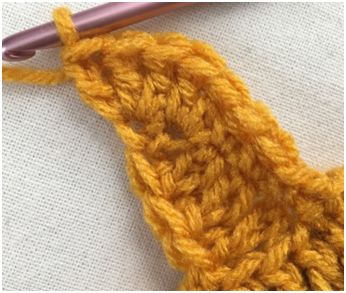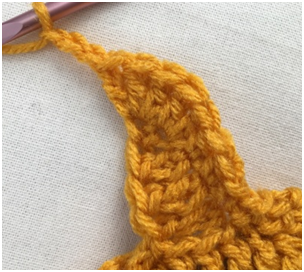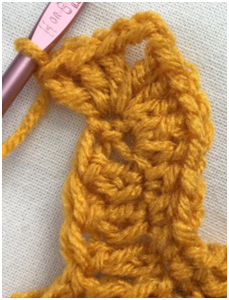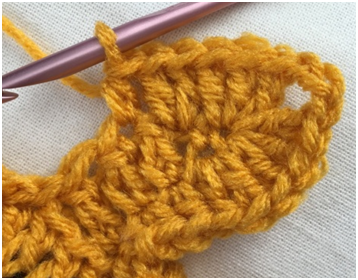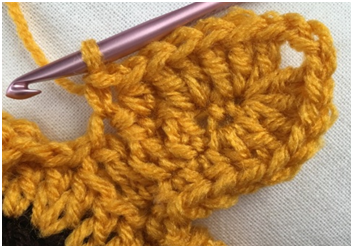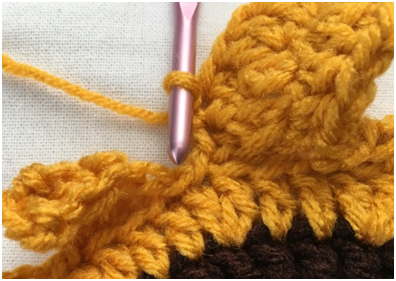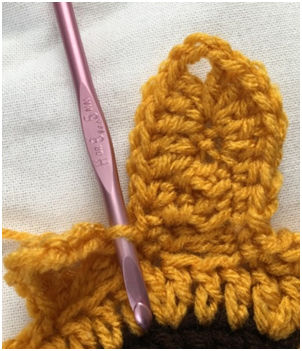 Rnd 7 – Attach Light Sage in the ch-3 sp (from Rnd 6) of any petal. Ch 7, sl st into ch-3 sp of next petal. Rep around.
Rnd 8 – Ch 2, *make 8 dc in first ch-7 sp from Rnd 7, and 8 dc in next ch-7 sp from Rnd 7. [Dc 4, ch 3, dc 4] in next ch-7 sp.* Rep from * to * 3 more times. Join with sl st to top of first dc. Fasten off, stretch fabric outwards considerably, pulling from corners, in order to relax the stitches and make square flatter.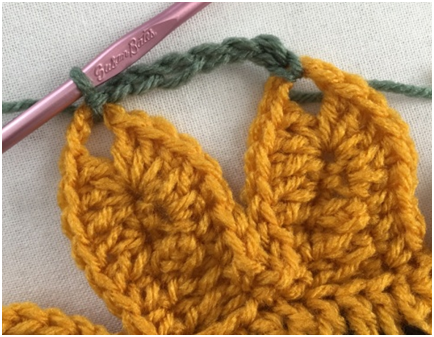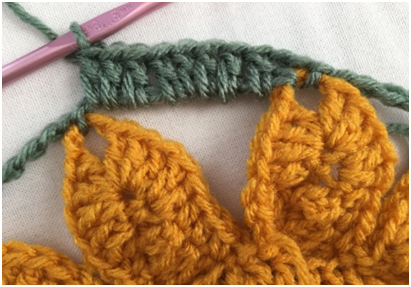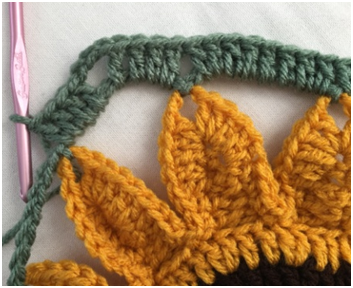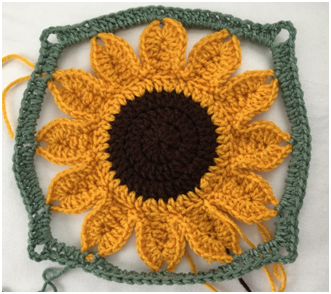 Assembly
Put 2 squares together with right sides facing each other. Pull Buff through FLO of square facing away from you, and through BLO of square facing towards you. Ch 1. Sc in same st, and rep this process to sc the two squares together. Continue this process in each direction – sc two squares together both length-wise and width-wise, until squares are all completely attached. Fasten off, weave in all ends.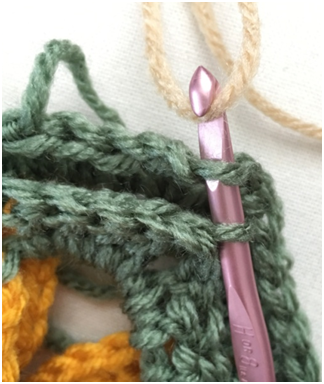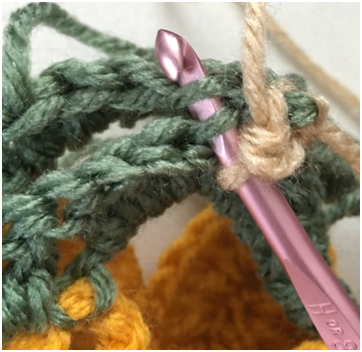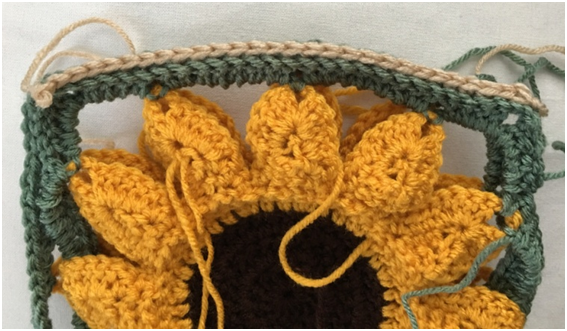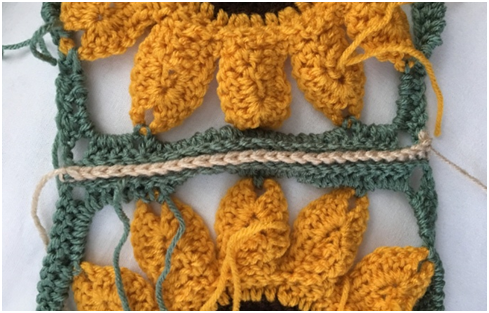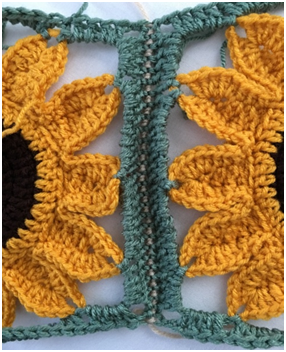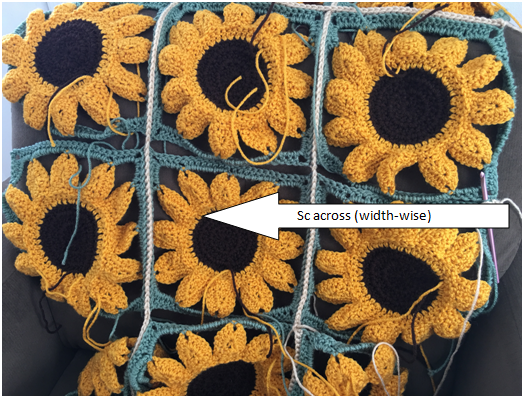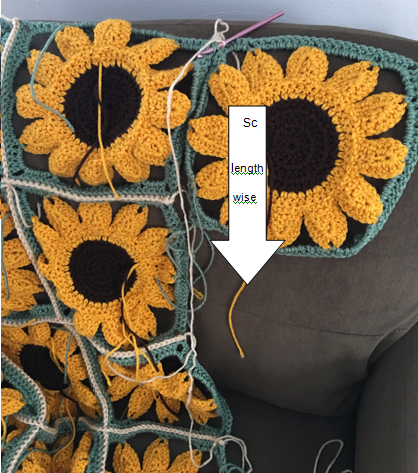 Edging
Rnd 1 – Attach Buff in any of the four corners of blanket. Ch 1, 3 sc in ch-sp of corner. Sc in each st around blanket, making [3 sc, ch 1, sc] in corners (first photo below). Make a sc in ch-sps along the edge of each square, as well (second photo below). In last corner, where Edging begins, [sc 3, ch 1] and join with sl st to first st of Edging.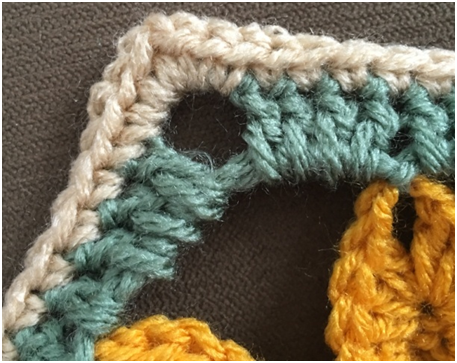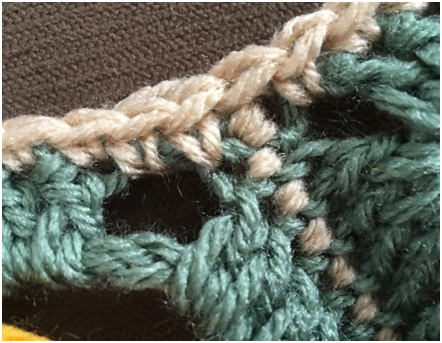 Rnd 2 – *Ch 2, dc in next st, dc in next st, hdc in next st. Sl st over next 3 sts.* Rep from * to * around, join with sl st to first st. Fasten off, weave in ends.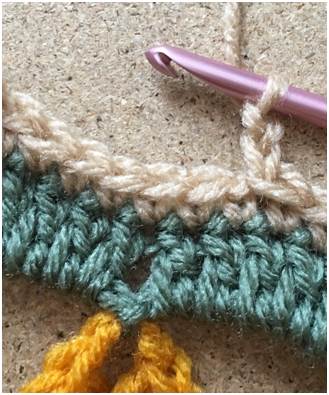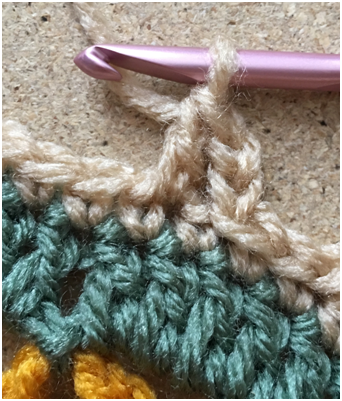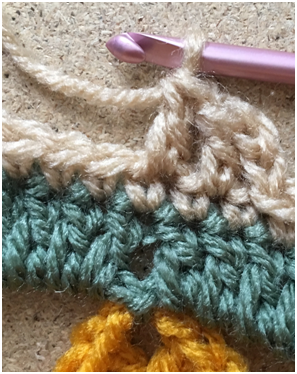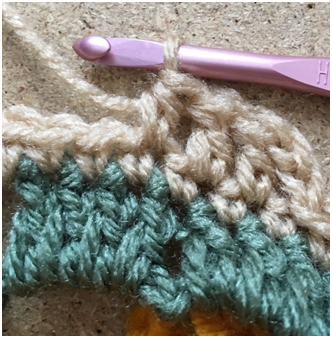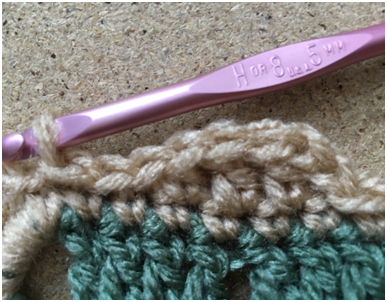 Here is the finished blanket!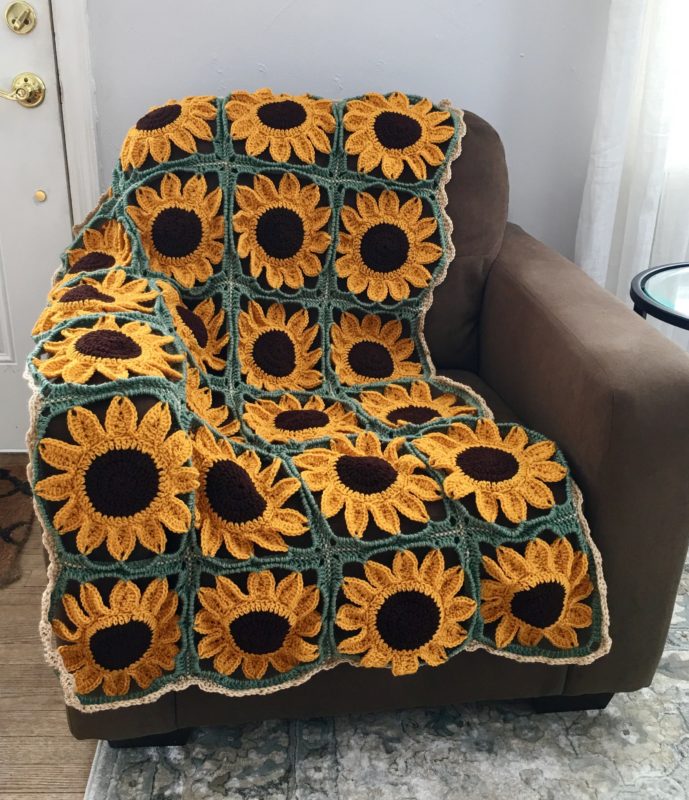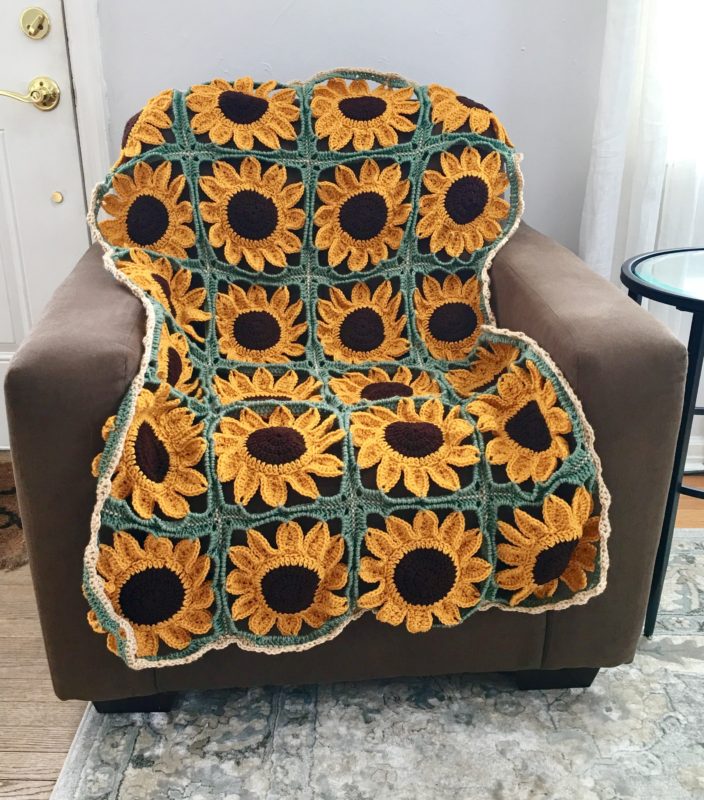 Thank you so much for crocheting this sunflower blanket along with me! I hope you get lots of great use out of your new afghan!! If you love fun and easy crochet patterns, please be sure to subscribe to my e-mail list and follow me on social media so that you can keep up to date with all my new designs! See you next time!
COPYRIGHT: This pattern is owned by Crafty Kitty Crochet (Melissa Moore). Any reselling or distribution of this pattern is prohibited. Sale of items made using this pattern is welcomed, but I do ask that credit/a link be provided back to my site, craftykittycrochet.com.
Keep up to date with my crazy crochet life!