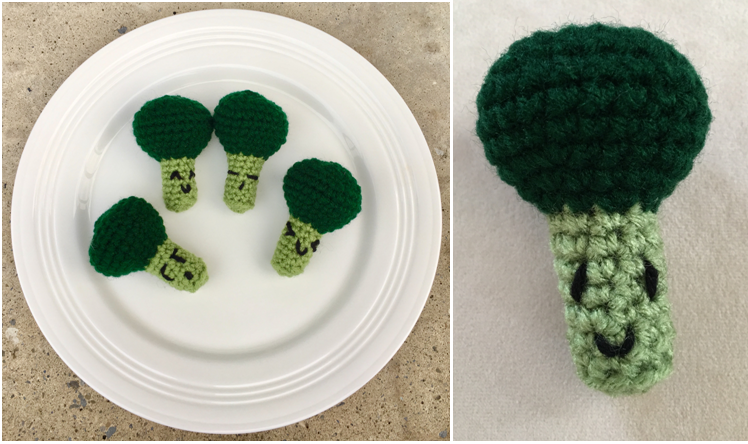 Amigurumi Broccoli Crochet Pattern
Disclosure: This post may contain affiliate links; for more details, please see my Disclosure Policy here.
Who says veggies have to be boring?! These little amigurumi broccoli have unique and colorful personalities! And, they're easy and fun to make!
I originally designed these broccoli many years ago when I first started selling my crochet. I was making a large play food set, and wanted to have a balance of fun "barbecue" foods like a Cheeseburger (find the pattern HERE!), but also foods that promoted healthy eating such as fruits and vegetables. The broccoli turned out to be a big hit – especially with parents who wanted "healthy" play food for their kids! (Years later, when I was having this pattern tested, I was informed that these broccoli also happen to make EXCELLENT cat toys!)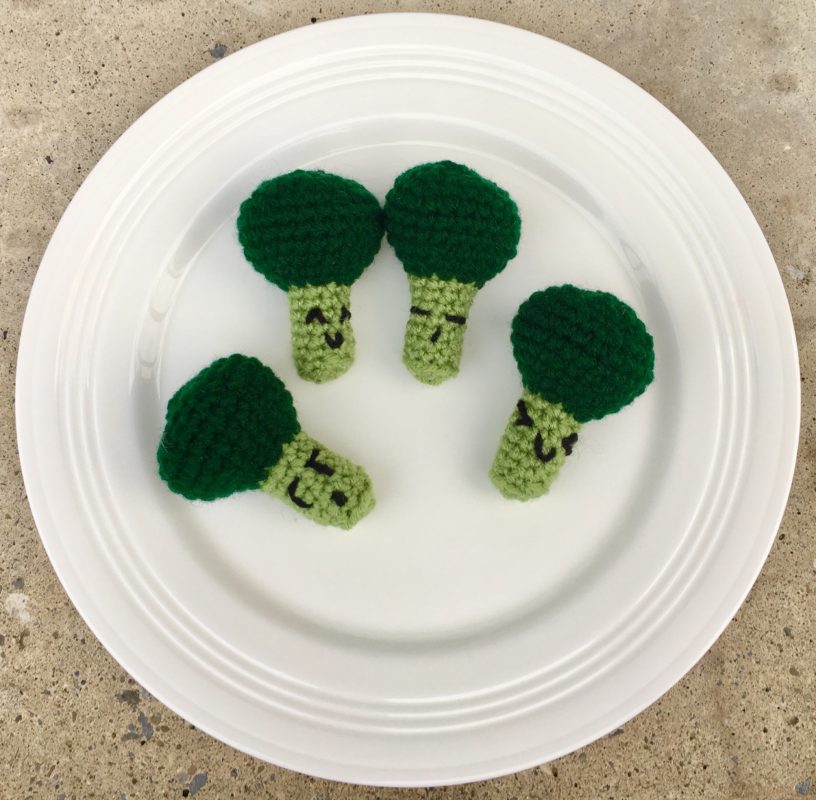 So when I was trying to think of a fun and unique amigurumi pattern for my blog, these broccoli quickly jumped to the top of my list! They're not only sized similarly to real broccoli, but for added fun, they each have funny little faces sewn on! This pattern walks you through all the steps on how to make the little broccoli, and their individual faces!
Another great thing about these broccoli is that they don't require large amounts of supplies to complete – just small amounts of yarn and stuffing! You could make a whole bunch of broccoli with this 16 oz bag of stuffing on Amazon!
Ready to make the least boring veggies EVER? Then let's get started!
Supplies
D/3 3.25 mm crochet hook
Red Heart Super Saver in:
Abbreviations
BLO = back loop only
Rem = remaining
Rep = repeat
Rnd(s) = rounds
Sc = single crochet
Sc2tog = single crochet 2 together
St(s) = stitch(es)
Gauge
Exact gauge is not essential to this project.
Size
About 3.5" in length
Instructions
Broccoli
Stem (starting from bottom of stem)
Work in continuous rnds – do not join. You may find it helpful to place a stitch marker at the beginning of each rnd.
Rnd 1 – With Tea Leaf, make a magic ring. 5 sc in ring. (5 sc)
Rnd 2 – 2 sc in each st around (10 sc)
Rnd 3 – Working in BLO, sc around (10 sc)
Rnd 4 – Sc around (10 sc per rnd)
Rnd 5-9 – Rep Rnd 4; change to Hunter Green in last st of last rnd (10 sc per rnd)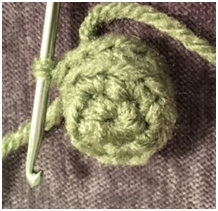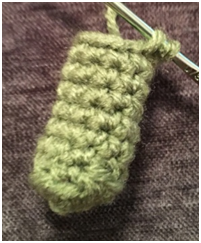 Top
Rnd 10 – With Hunter Green, 2 sc in next st, sc in next. Rep around. (15 sc)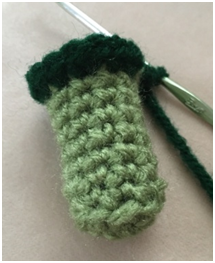 Rnd 11 – 2 sc in next st, sc in next 2 sts. Rep around. (20 sc)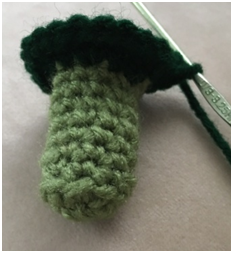 Rnd 12 – 2 sc in next st, sc in next 3 sts. Rep around. (25 sc)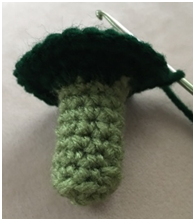 Rnds 13-15 – Sc around. Begin stuffing (25 sc per round)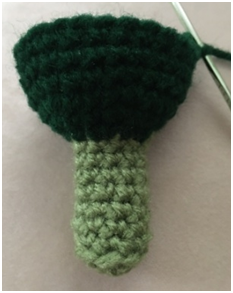 Rnd 16 – Sc2tog over next 2 sts, sc in next 3 sts; rep around (20 sc)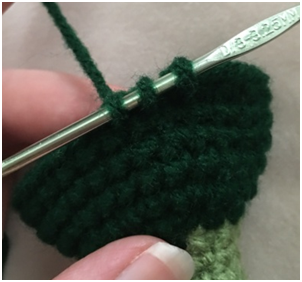 Rnd 17 – Sc2tog over next 2 sts, sc in next 2 sts; rep around (15 sc)
Rnd 18 – Sc2tog over next 2 sts, sc in next st; rep around. Finish stuffing (10 sc)
Rnd 19 – Sc2tog around (5 sc)
Rnd 20 – Sc2tog once more, leave rem sts unworked (3 sc)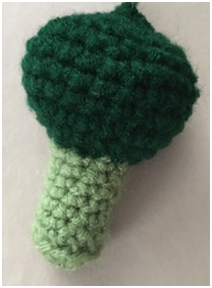 Fasten off. Use yarn needle to close rem hole. Weave in ends.
Faces
Made using Black yarn
(Photos below show how to make "sleeping face", described below. Use the same method of sewing to make other faces.)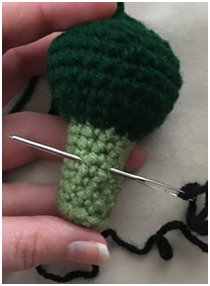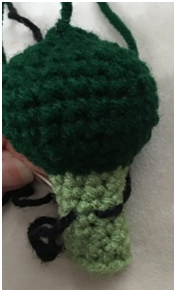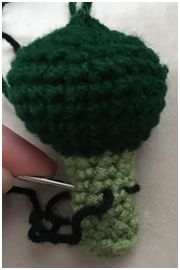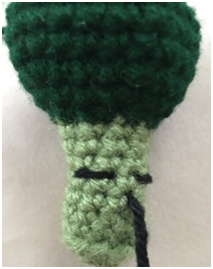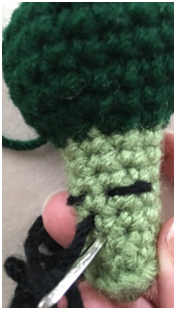 For sleeping face, sew two horizontal lines for eyes, and a small vertical line beneath for mouth.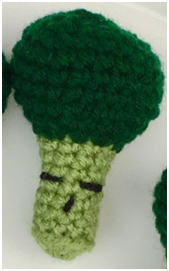 For happy face, sew two upside-down v's for eyes. Sew small v beneath for smile.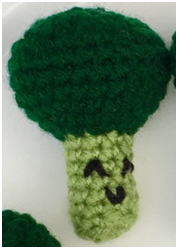 For smiley face, sew two vertical lines with a small v beneath.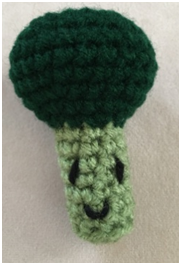 For "shifty" face, sew two vertical lines with small horizontal lines at the top, facing to the right. Sew a small vertical line beneath for mouth.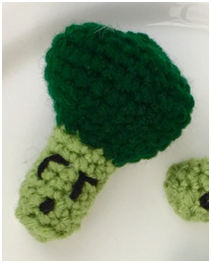 For "frustrated" face, sew two sideways v's, pointing towards each other. Sew a small horizontal line beneath.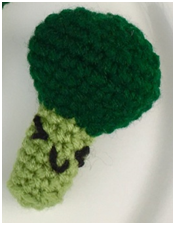 Carry black yarn ends to back of broccoli stem, and tie off. Hide knot in stitches.
Here are the finished broccoli!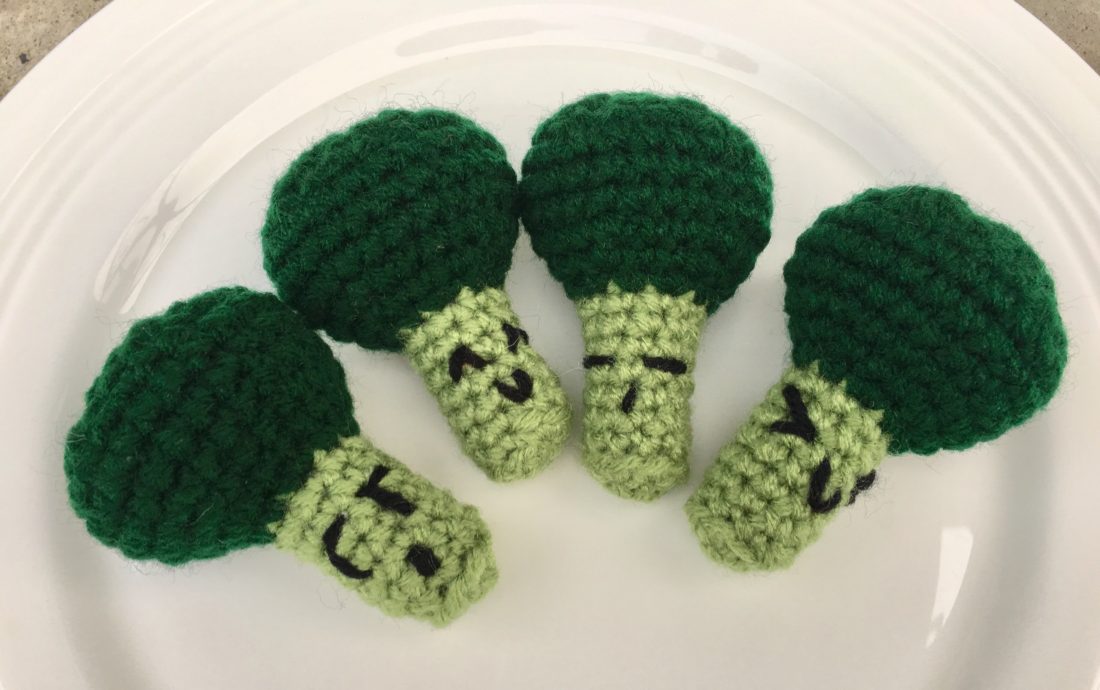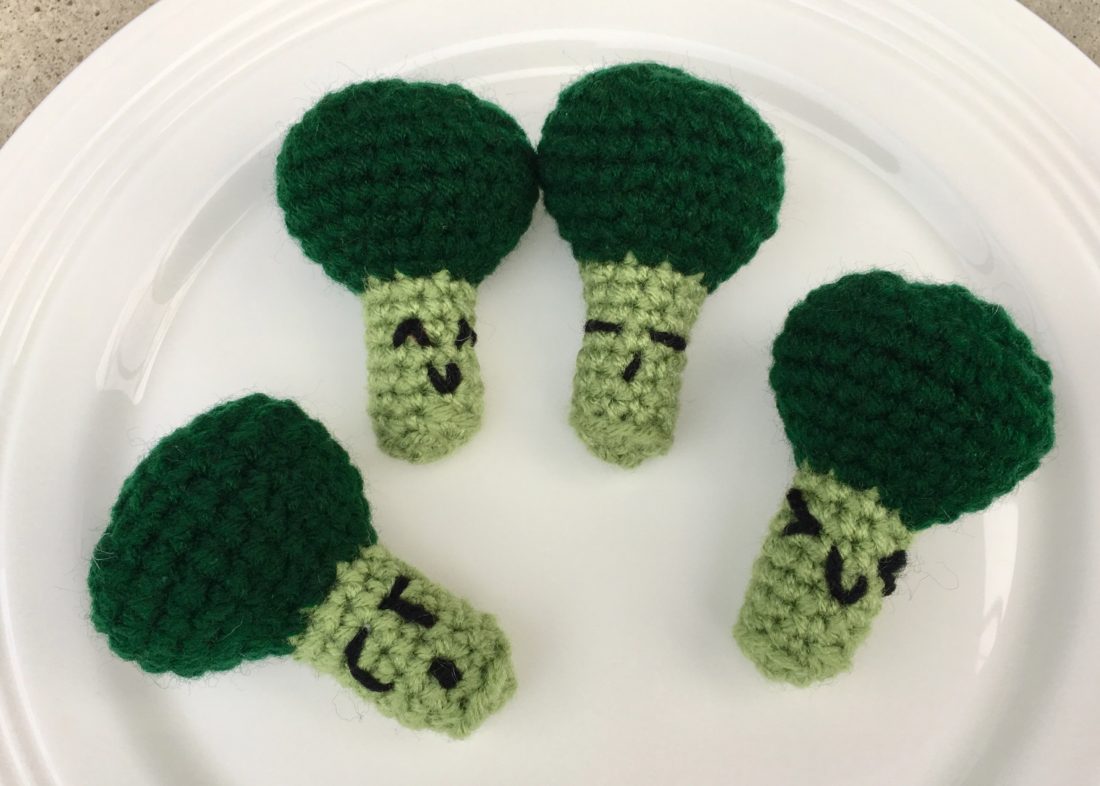 I hope you enjoyed crocheting these little broccoli with me! Stay tuned for lots more fun patterns, including amigurumi, coming soon to my blog! (You can keep up to date with my new patterns by following me on social media and subscribing to my email list!)
COPYRIGHT: This pattern is owned by Crafty Kitty Crochet (Melissa Moore). Any reselling or distribution of this pattern is prohibited. Sale of items made using this pattern is welcomed, but I do ask that credit/a link be provided back to my site, craftykittycrochet.com.
Keep up to date with my crazy crochet life!