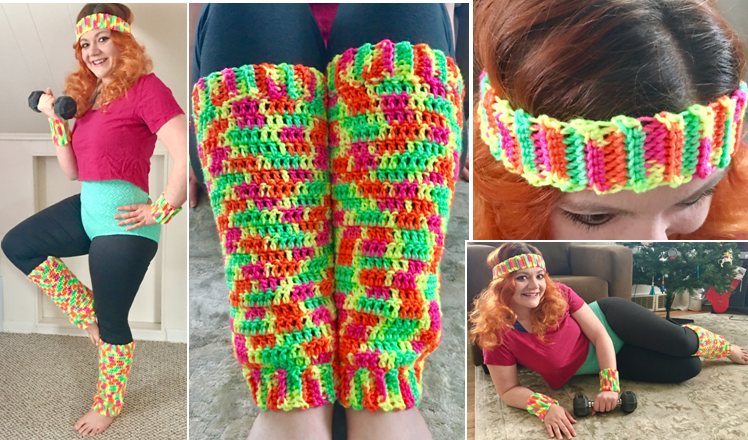 80's Workout Gear Crochet Pattern – Start Your New Year Right!
Disclosure: This post may contain affiliate links; for more details, please see my Disclosure Policy here.
The New Year is upon us, and if you're like me, then you're trying to get back to some more normal, healthy habits now that the holidays are coming to an end. It's always sad to see the winter holidays end – I celebrate Christmas and there's nothing quite like that post-Christmas sad feeling! The money's been spent, the calories have been consumed, and now it's time to get back to real life. It can be jarring, which is why I had the idea to face this New Year with a little blast from the past to help me feel better about it all! Meet my newest crochet pattern: the 80s workout trio! Crochet yourself a headband, sweatbands, and even legwarmers to get this year started right!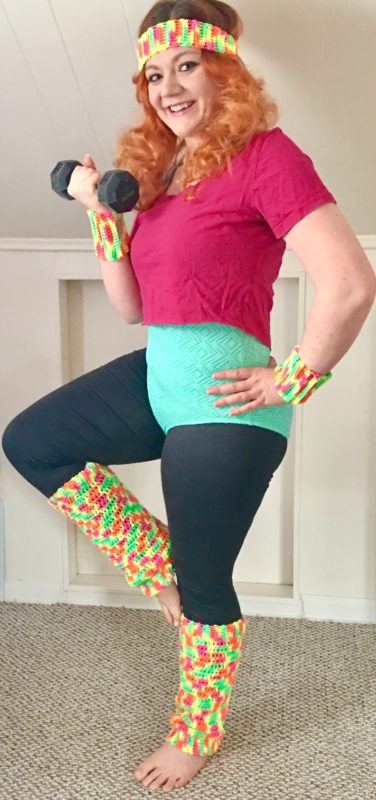 One of the biggest resolutions on my list every year is to get back into working out and cool it with the sugary foods for a while. And for some reason – probably because I'm an 80s kid (if you can count being born at the tail end of 1989 as being an 80s kid) – whenever I think of working out, I think of those fun 80s workout videos that everyone's mom had way back in the day! You know the one – it always starred a lady with a big smile and even bigger hair dancing around in her leotard and legwarmers. And you know what? Those workouts were FUN! As someone who isn't quite naturally athletic and really has to trick…errr…motivate herself into being active, I can really appreciate the value of a workout that you can look forward to and have fun with.
Since the whole point of this set was to be an homage to the 80s, I had to go with a yarn that captured the neon goodness that we all look back on so fondly. I think this yarn is absolutely perfect for the job! It's Red Heart Super Saver in a color way called "Day Glow"
. It's a neon rainbow!
So are you ready to sweat in style in 2019? Then let's get to work on this 80s workout set!
Supplies
I/9 5.25 mm hook
2 skeins of Red Heart Super Saver in Day Glow (I only used a small amount of the second skein)
Scissors
Yarn Needle
Abbreviations
Beg = beginning
BLO = back loop only
Ch = chain
Dc = double crochet
Rep = repeat
Sc = single crochet
Sl St = slip stitch
St = stitch
Size
Legwarmers – about 13" length, 13" width laying flat (about a medium/large women's size).
To adjust size, decrease the amount of stitches in your starting chain (width) and/or adjust the amount of rows made (length).
Headband – about 21" circumference (one size fits most for women/teens)
Sweatbands – about 4.5" length, 3.5" width laying flat
Gauge
2 rows of dc and 3 dc stitches across = 1"
Instructions
Legwarmers
Ch 50.
Row 1 – Dc in 3rd ch from hook, and in each st across. Ch 2, turn (48 dc)
Row 2 – Dc in each st across. Ch 2, turn (48 dc)
Rows 3 – 20 – Rep Row 2. Do not ch 2 at the end of row 20. Do not fasten off. (Photo below shows Legwarmer after Row 20.) (48 dc)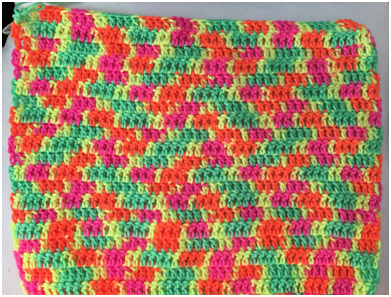 Legwarmer Cuffs
Ch 6.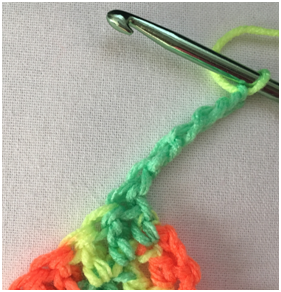 Row 1 – Sc in each ch across.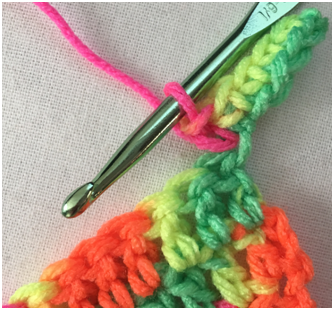 Sl st back into same st on legwarmer (from which you made the beg ch 6 – see first photo below), sl st into next st (see second photo below). Ch 1, turn (5 sc)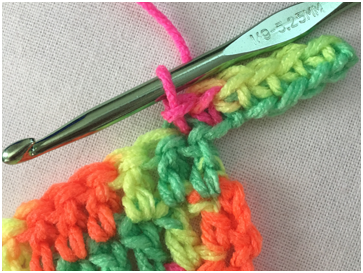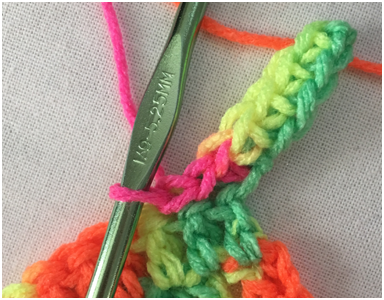 Row 2 – Working in BLO, sc in each st across. Ch 1, turn (5 sc)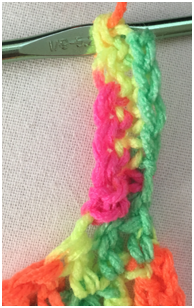 Row 3 – Working in BLO, sc in each st across. Sl st into next st on leg warmer (see two photos below).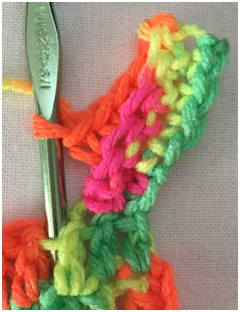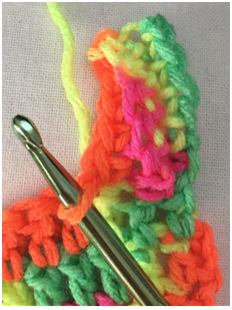 Sl st again into next st on legwarmer. Ch 1, turn (5 sc)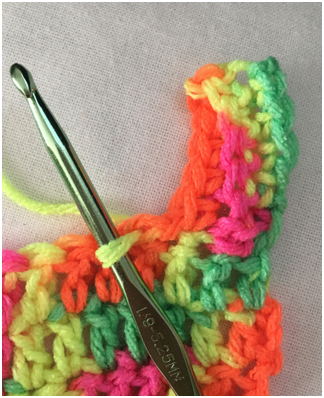 Row 4 – Working in BLO, sc in each st across. Ch 1, turn (5 sc)
Rows 5 – 48 Rep Rows 3 & 4 twenty-three times for a total of 48 rows. (5 sc per row)
Fasten off, leaving a long tail for sewing.
Attach yarn on other end of legwarmer and rep steps for Cuff to make another Cuff.
Finishing
With right sides facing each other, fold together legwarmer and sew together (see photos below). Turn right side out and weave in all ends.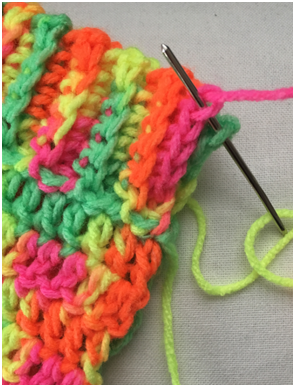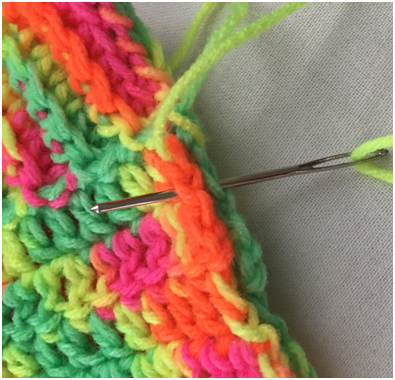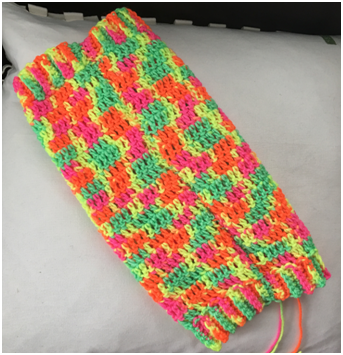 Headband
Row 1 – Ch 9, sc in 2nd st from hook and in each st across. Ch 1, turn. (9 sc)
Row 2 – In BLO sc across, ch 1. (Photos below show what sc in BLO looks like.) (9 sc)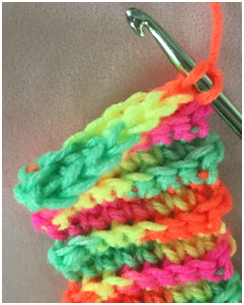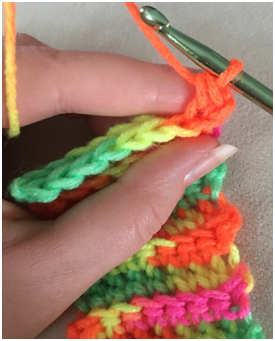 Rep Row 2 until cuff measures 21″ when VERY stretched – about 53 rows total (9 sc each row)
Place both ends of the cuff together, and sl st two sides together across in BLO to make join the band. Fasten off, weave in all ends.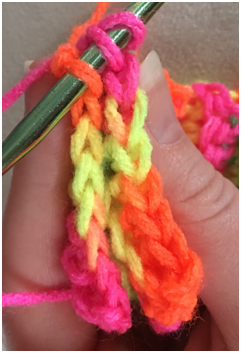 Sweatband
Ch 17.
Row 1 – Sc in 2nd ch from hook, and in each ch across. Ch 1, turn. (16 sc)
Row 2 – working in BLO, sc in each st across. Ch 1, turn (16 sc)
Rows 3 – 25 – Rep Row 2. Do not ch 1 at the end of Row 25.
Finishing
With right sides facing together, sl st two sides of Sweatband together, working through only one loop of each row. Fasten off. Weave in all ends.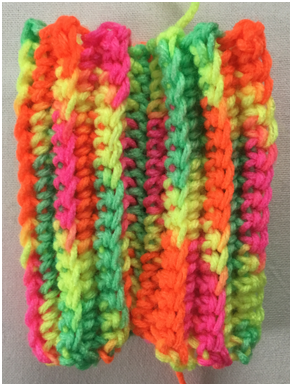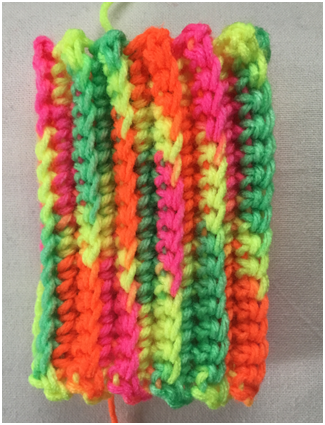 Here is what the finished set looks like!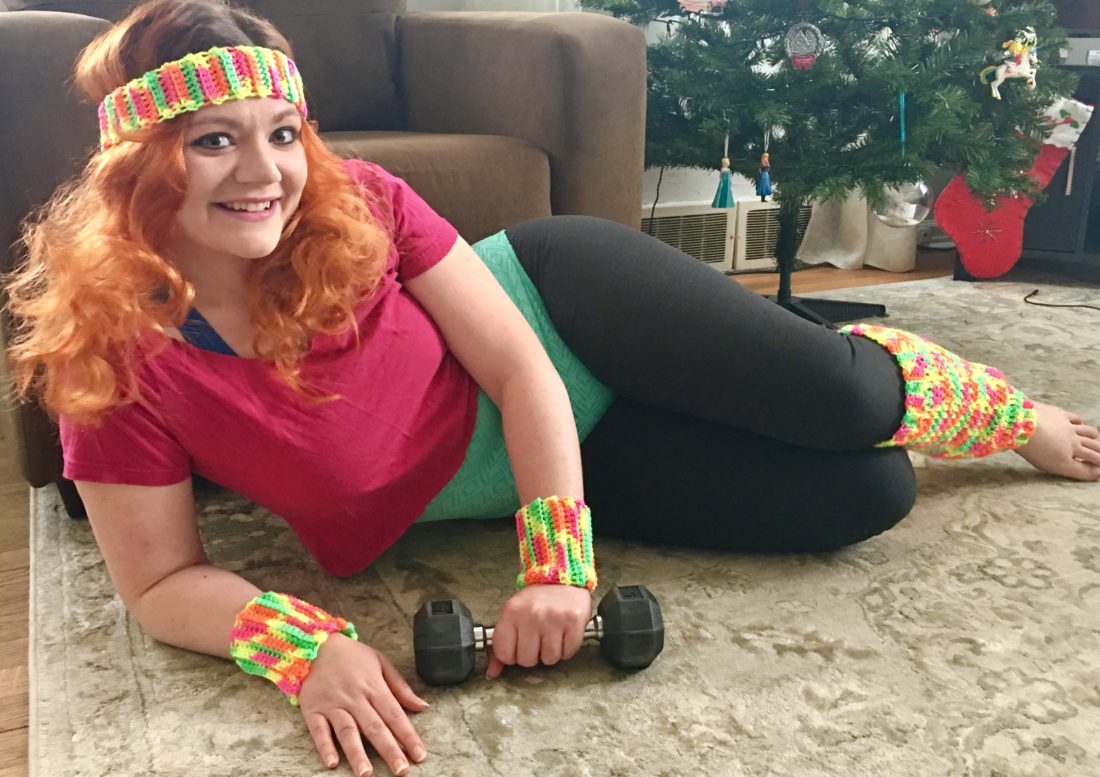 Thanks so much for crocheting this super fun set along with me! I'm excited to bring you more fun patterns in 2019 – you can stay up to date on my patterns by subscribing to my email list and following me on social media (links below)!
Here's wishing you a happy and healthy 2019!
COPYRIGHT: This pattern is owned by Crafty Kitty Crochet (Melissa Moore). Any reselling or distribution of this pattern is prohibited. Sale of items made using this pattern is welcomed, but I do ask that credit/a link be provided back to my site, craftykittycrochet.com.
Keep up to date with my crazy crochet life!