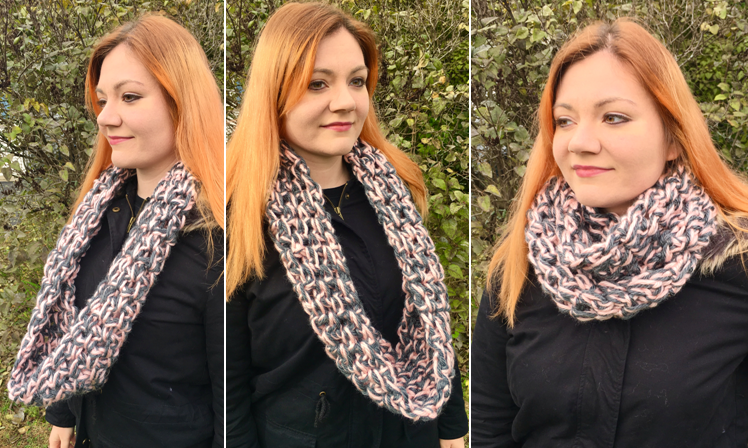 The Caylin Scarf – A Fun, Easy Beginner's Infinity Scarf!
Disclosure: This post may contain affiliate links; for more details, please see my Disclosure Policy here.
Just in time for December, here is a super quick and easy infinity scarf that is beginner-friendly!  It's also a great scarf for more experienced crocheters who are looking for quick, 1-2 hour holiday gift ideas!
As crafters, I think we can all agree that the best projects are the ones that have special meaning behind them.  This scarf is especially dear to my heart because of the story behind it – hence the special name!  I have an awesome co-worker who liked my crocheting so much that she wanted to learn how to do it herself.  I showed her the basics, and she was a natural at it!  Before I knew it, she was giving me ideas for fun patterns based on some things that she wanted to crochet for herself and her family.  One idea was this very scarf – a quick, easy infinity scarf made in fun colors and bulky yarn for maximum coziness!  So I designed this pattern to include the basic chain and single crochet, but introduced a slight twist to keep it interesting.
The scarf is made up using the moss stitch, which is also sometimes called the linen stitch or granite stitch.  This stitch makes it work up even more quickly than a simple single-crochet-across every row, and it makes the fabric super stretchy, too!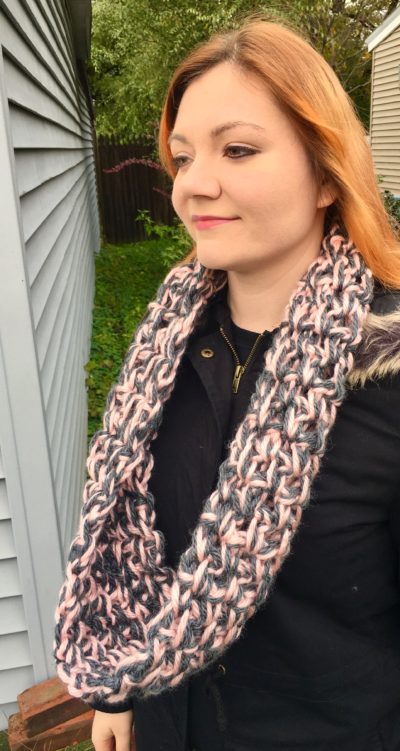 I especially love the colors my friend chose – a light pink
and deep charcoal
in one of my favorite yarns to work with, Lion Brand Hometown USA!  This is a bulky yarn that has a gorgeous sheen to it.  It's really unlike any other bulky yarn I've seen!  The scarf only requires one skein of each, too!

Ready to make your very own Caylin scarf?  Let's go!
Supplies
Q/15.75 mm crochet hook
Scissors
Yarn Needle (with eye large enough to thread bulky yarn used for this project)
1 Skein each of Lion Brand Hometown USA yarn in:
Chicago Charcoal
Providence Pink
Abbreviations
Ch = chain
Rep = repeat
Sc = single crochet
Sk = skip
St(s) = stitch(es)
Sp(s) = space(s)
Size
Approximately 20-26" in length, depending on how far scarf is stretched
Gauge
1 moss stitch (Sc, ch 1, sk next st, sc in the next) and 2 rows = 2"
Special Stitches
Moss Stitch (also known as Granite Stitch or Linen Stitch): Sc, ch 1, sk next st, sc in the next. Stitches are worked in ch-1 sps starting with Row 2.
Instructions
With both Pink and Charcoal strands of yarn together, ch 10 (first photo).
Row 1 – In second ch from hook, sc. *ch 1 (second photo shows sc and ch 1). Sk next ch, sc in next (third photo).* rep from * to * 3 more times (fourth photo). Ch 2, turn (fifth photo). (5 sc, 4 ch-1 sps)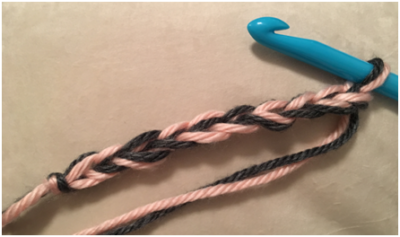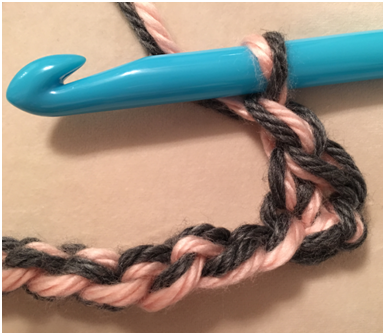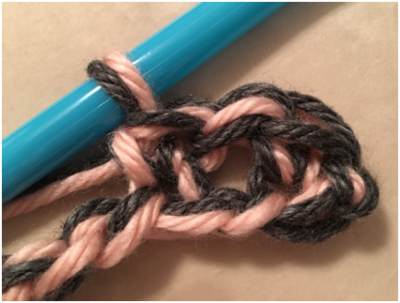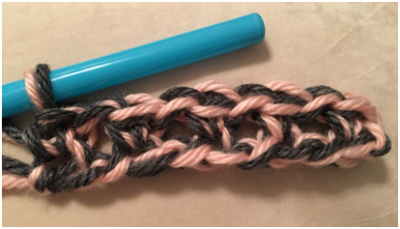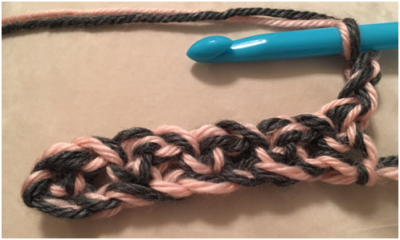 Row 2 – sk next sc, sc in next ch-1 sp from previous row (first photo below). *ch 1 (second photo below), sk next sc, sc in next ch-1 sp. (third photo below)* Rep from * to * 3 more times. Ch 2, turn (5 sc, 5 ch-1 sps)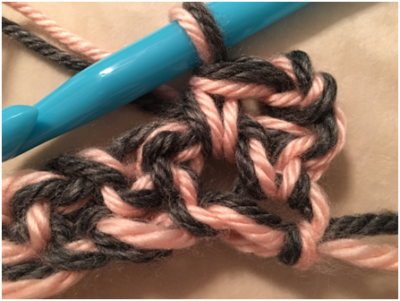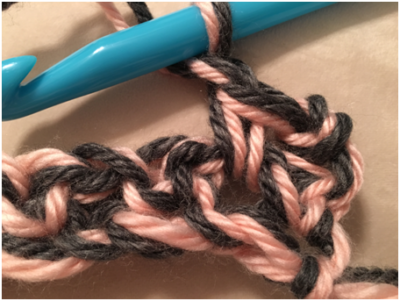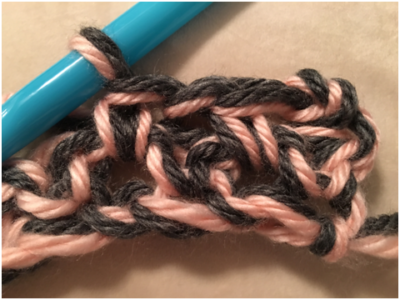 Rep Row 2 until both Pink and Charcoal skeins are used up – approximately 48 rows total. Do not ch 2 at the end of last row.  (Note: the scarf has a considerable amount of stretch, so it will actually be larger than it appears after 48 rows are completed, once it is stretched.) (5 sc, 5 ch-1 sps per row)
Fasten off, leaving a long tail for sewing.  Fold scarf together with right sides facing each other.  Thread both strands of yarn on yarn needle, and sew both ends together (I usually sew through one loop only of the stitches, for a cleaner/less noticeable ridge on the back of the scarf).  Weave in ends and turn scarf right side out.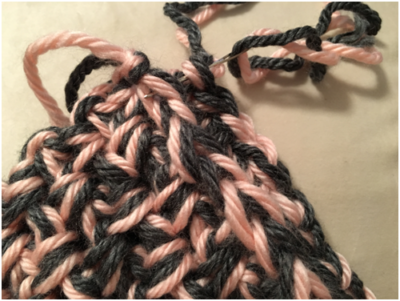 Scarf can be worn as a long circular scarf, or wrapped around twice for a tighter/bulkier fit to the neck!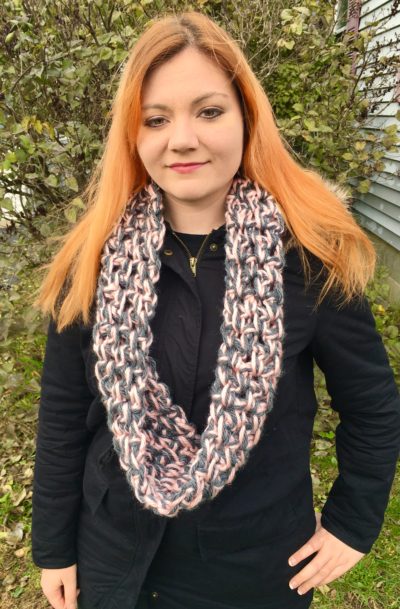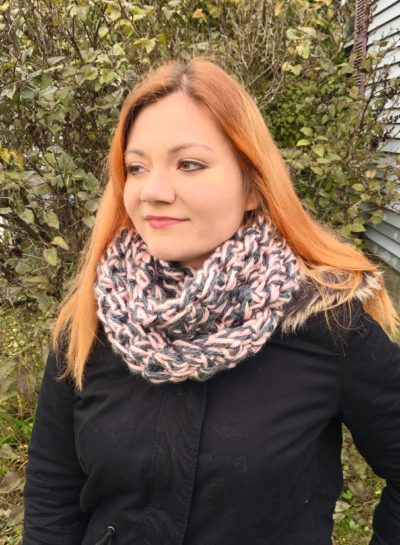 Thanks for joining me to crochet this super fun and easy scarf!  I hope you make a whole bunch for your friends and family this holiday season!  Join me next time for another fun winter pattern – to find out when that's posted, please be sure to subscribe to my free email list and follow me on social media (links below)!
COPYRIGHT:  This pattern is owned by Crafty Kitty Crochet (Melissa Moore). Any reselling or distribution of this pattern is prohibited. Sale of items made using this pattern is welcomed, but I do ask that credit/a link be provided back to my site, craftykittycrochet.com.
Keep up to date with my crazy crochet life!